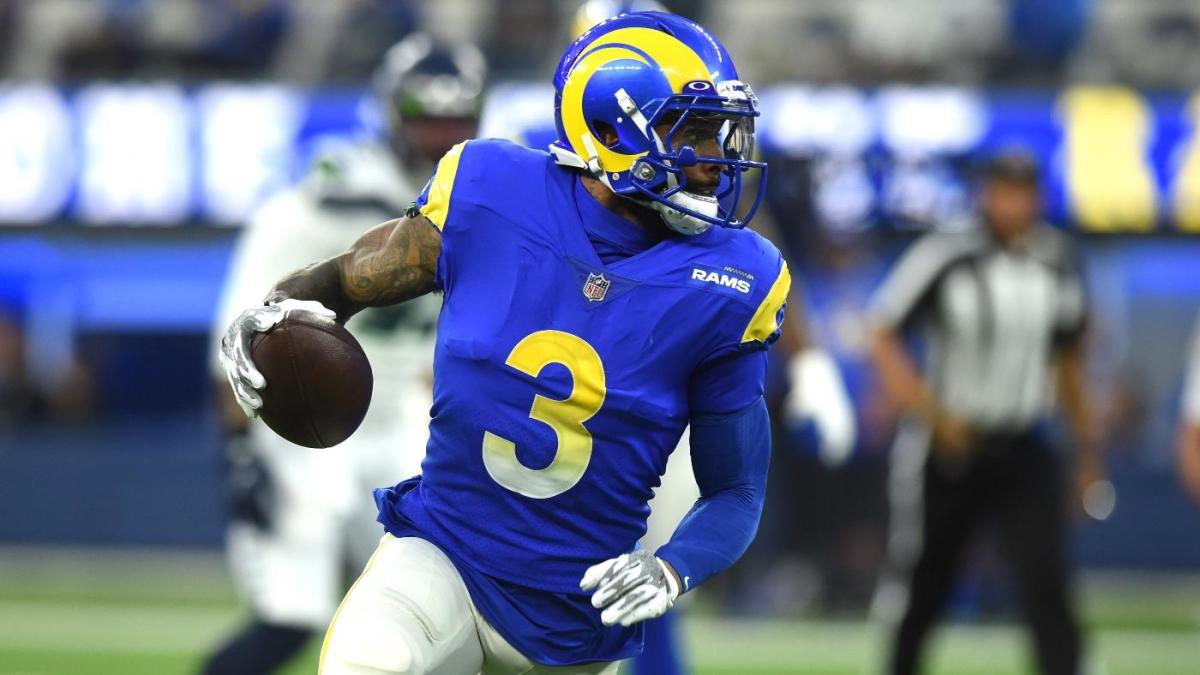 Odell Beckham Jr. 2022 free agency: Landing spots, expected contract, prediction for Rams wide receiver
For a minute there, it looked like Odell Beckham Jr.'s 2021 season was going to end in disarray. The veteran wide receiver started the year with the Cleveland Browns and eventually had a falling out with the organization, which included Beckham's father publicly criticizing quarterback Baker Mayfield. This contributed to Beckham's eventual release in early November and he soon found a new home in Los Angeles with the Rams. There, Beckham enjoyed a resurgence as he instantly formed a connection with Matthew Stafford and proved to be a key cog as the Rams marched to a Super Bowl LVI win over the Cincinnati Bengals.
Joining the Rams, Beckham had 27 catches for 305 yards and five touchdowns in eight regular season games. He was even more effective in Los Angeles' four playoff games, catching 21 of 26 targets for 288 yards and two touchdowns. In Super Bowl LVI, Beckham looked like he was on his way to an MVP-caliber performance catching two passes for 52 yards and a touchdown, but suffered a knee injury that forced him out of the game and later revealed to be a torn ACL. .
As Beckham looks to unrestricted free agency next week, that knee injury should be a major factor considering he will likely miss a significant portion of the 2022 season. That said, teams will likely still be very interested. to add dynamic talent to the roster for the late season push, making him one of the most intriguing free agents to hit the market this offseason.
While we wait to see what Beckham plans to do next in his career, let this post be your hub for all things wide receiver. Below, you'll find potential landing spots, a look at his projected contract, and a nugget-by-nugget news preview of all the latest developments.
The salary cap figures come from Spotrac.
Potential landing spots
Los Angeles Rams
The Rams will likely be looking to bring back as many pieces of their Super Bowl championship team as possible, including Beckham. There's no denying that he and Stafford had instant chemistry and that Beckham staying in a comfortable system with a quarterback he's had success with as he continues his rehab should be big motivation to try and stay. with the Rams. Meanwhile, Los Angeles have shown an interest in keeping Beckham and could land him on a team-friendly deal given this latest injury.
New England Patriots
The Patriots were rumored to be one of the teams trying to land Beckham when he was released from the Browns midway through the season. If for some reason the Rams are unable or unwilling to re-sign him, Bill Belichick could once again try to sign the talented receiver. If Beckham's market is sunk due to his torn ACL, it could become even more attractive to Belichick, who is still looking for value in the open market. New England is also badly in need of a talent boost at receiver and a healthy Beckham would be a great fit for second-year quarterback Mac Jones.
Green Bay Packers
Green Bay was another team that tried to land Beckham during his brief free agent run midway through last season but ultimately failed. With Aaron Rodgers back with the organization and Davante Adams on the franchise tag, a year-long stint with the Packers to help them weather the NFC hump wouldn't be the worst place to play. Similar to the Rams, he would play against one of the league's best receivers in Adams and have an elite quarterback in Rodgers throwing to him. Green Bay would also be an ideal landing spot as the team likely wouldn't need him before the playoff push, so he could rehabilitate his knee without the rush to get on the field as soon as possible. .
Provisional contract
After being released by the Browns in early November, Beckham signed a one-year deal with the Rams that paid him just $1.25 million for the second half of the season. According to Spotrac's market value calculations, Beckham should now land a contract that pays him an average annual salary of $13.1 million over two seasons. Of course, it remains to be seen how much Beckham's torn ACL affects his market, and the receiver could consider signing a short one-year contract to possibly return to the open market next year in a healthier position. .
Prediction
When a player says he's ready for a hometown discount and the head coach of that team publicly says he wants the player back, that's a formula for OBJ stays in Los Angeles. The pairing was just too even for either side to look away this offseason. Although Beckham won't be around for the first half of the year due to recovering from the ACL, the Rams have plenty of weapons to hold the fort down until he's able to step onto the field. . As long as Los Angeles can put a respectable below-market deal ahead of Beckham, it's hard to see him playing anywhere else in 2022.
Free agent timeline
March 4: Rams head coach Sean McVay isn't hiding his desire to keep Beckham in Los Angeles for the team's 2022 title defense, though the wide receiver likely missed part of the campaign due to his Torn ACL.
"We really want to be able to get Odell back," McVay said during an appearance on Sirius XM's Mad Dog Sports radio. "I also know there will be other teams that will probably want his services, but hopefully we can convince him to come back and be part of this thing."
February 11th: Beckham told NFL.com that his preference would be to stay in Los Angeles and re-sign with the Rams when he enters free agency later this offseason. The veteran receiver also said he would be willing to give the team a hometown discount.
"This place feels good in my heart," Beckham said, according to Nick Shook. "It's like a house."